Nice pitch, Marcus!
Park West Gallery artist and native Detroiter Marcus Glenn was invited to throw a ceremonial first pitch at last night's Detroit Tigers' game against the Colorado Rockies. My wife Mitsie and I went along with Marcus and Yolanda. It was a perfect night for baseball. (And, by the way, the Tigers won!)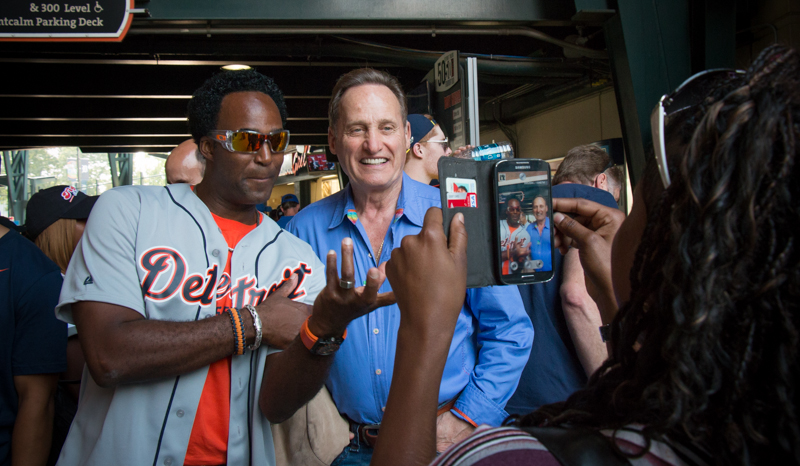 As we waited for the official walk on the field, Marcus and I hammed it up while the Glenn's niece captured all she could of the night with video on her smartphone. In the photo above, he's explaining exactly how he's going to throw that ball.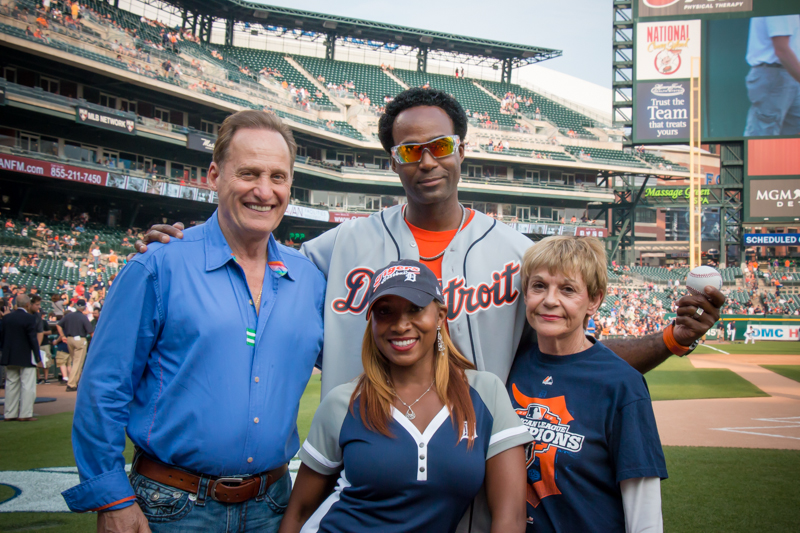 We took the opportunity for a photo on the field.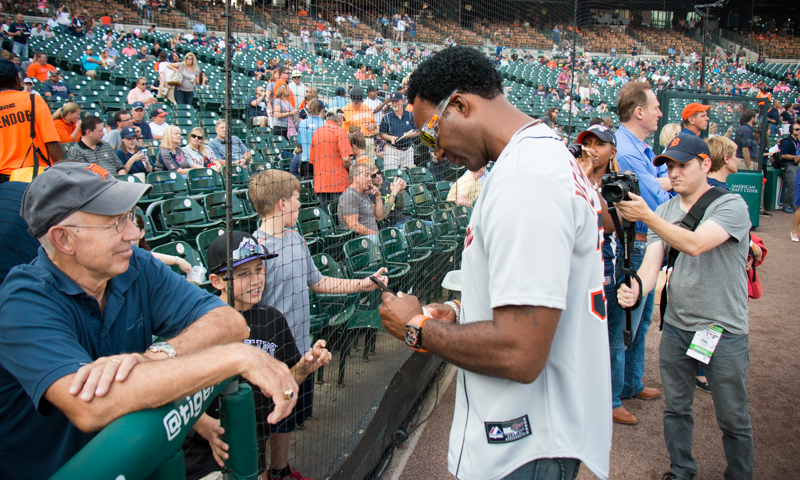 After some fans learned that Marcus was the official artist for the 56th Annual Grammy Awards and that his artwork is collected worldwide, he was asked to autograph some baseballs.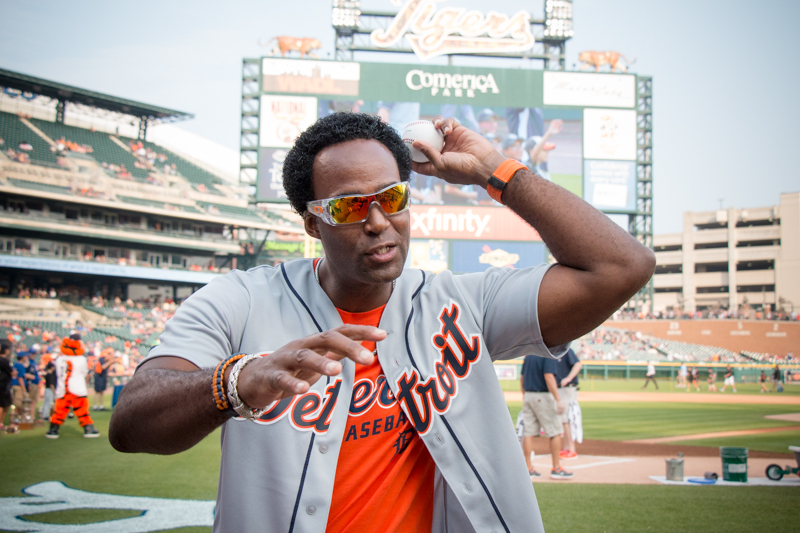 Here, he's giving (yet another) demonstration on exactly how he's going to throw the ball. He was definitely enjoying the night.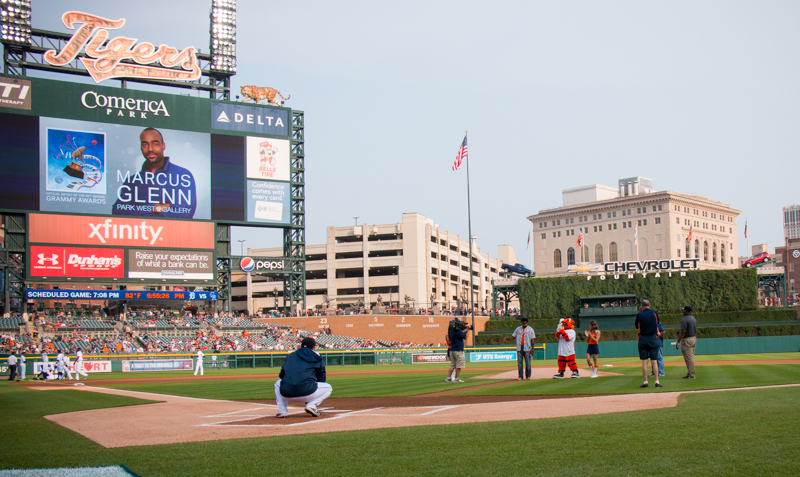 This photo is just moments before the pitch – Marcus is on the mound and the big screen – as the announcer introduced the artist to a cheering crowd. The description of a piece of artwork takes on a completely different feel when read at a large stadium with the signature cadence of a baseball announcer:
And … for our next ceremonial first pitch:  He was recently featured as the signature artist of the 56th Annual GRAMMY Awards. The work, featuring the iconic GRAMMY image, is a colorful acrylic on wood mixed media piece that Glenn fittingly calls "One Nite Outta This World." It was used as the official artwork for Music's Biggest Night and graced the cover of the GRAMMY Awards program book, telecast tickets and promotional posters. Please welcome renowned artist and Detroit native … Marcus Glenn.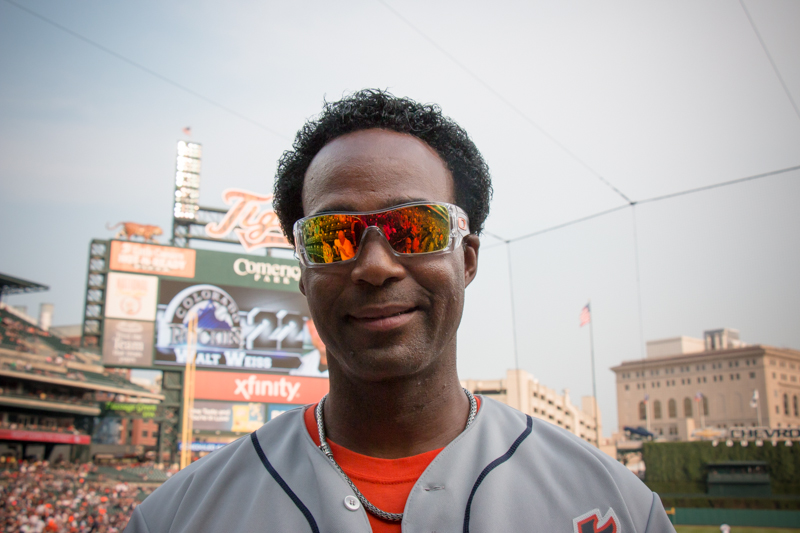 A little post-pitch satisfaction. He admitted to being slightly nervous but more excited. It was a nice pitch.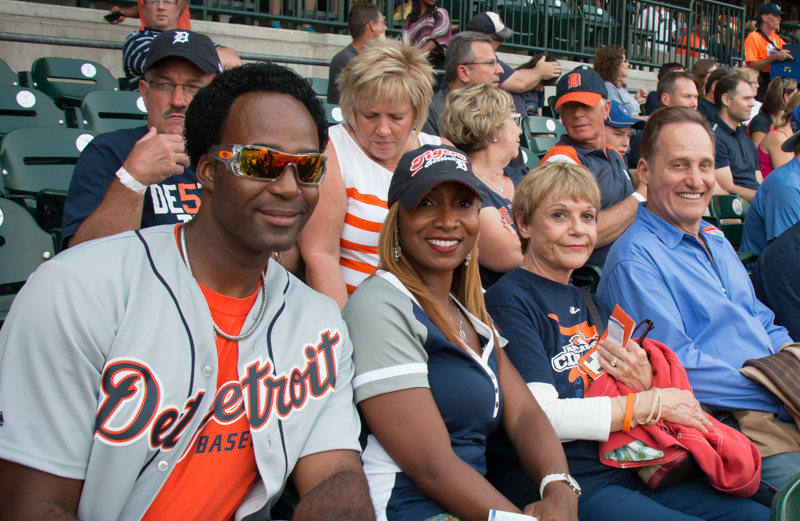 Afterward, we took our seats. Mitsie got her hot dog and we all agreed that it was just good old fun watching Marcus receive that kind of appreciation in his home town for the success he's had this year. Thanks to the Detroit Tigers for the great memory.