30 minutes with Marko Mavrovich
Sitting down and talking for 30 minutes with the painter Marko Mavrovich is a treat for the senses. Enjoy.
What about your career has surprised you?
I am basically self-taught. I was taught by the example of my father, museums, books and art exhibits. When I came back* to California (from Yugoslavia) in my 20s, I would work in the shipyards during the day to earn money to buy my paints and canvases. I'd spend my days underwater, go out at night, paint at night and then in the morning be back under the water. Finally, I started hitting a couple of art festivals and selling my paintings. That was a surprise to me, because back in the old country that was not considered a way to work and make a living. The feeling was that as an artist you'll never get married or that no one would ever take you seriously.
*Marko was born in California. His parents moved the family back to their homeland of Yugoslavia when Marko was 10
What are your tools of the trade?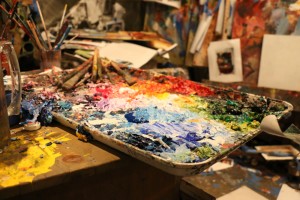 I started with watercolor because that's mostly what my father did. But I knew about oil. My father and I would cross the Italian border when I was about 14. He would smuggle oil paints from Trieste by sticking the paints in my pockets. They would search his pockets but wouldn't search mine. That's when I knew that a little tube of paint was like gold. And my dad really used it. He never abused it. He used every drop of it.
When I came here, I progressed to acrylic paint. It was better for me. I wanted to go bigger and bolder than watercolor could let me, and it was faster drying than oil. Some artists don't like acrylic paint because it dries too fast. I like it because I can see my work progress faster. I can make the composition come to life without having to wait. With oil paint, you work on part of a painting, then you have to wait for it to dry, come back a day or two later. For me, I would lose my momentum. I like to see the composition take shape more quickly. If I need more texture at the end of the painting, I'll apply some thick oil.
What kind of inspiration did you get from your father?
For my father, everything around was a painting. I watched him paint a fireplace where some of our village friends would bake and barbecue their fish or cook polenta. Or just heat themselves in the winter. Then he would paint beautiful boats or an old stable where they kept a mule. I loved the way he painted the stone and the terra-cotta tiles – he preferred the ones that were broken. He'd paint a stable or building that was falling apart. A funny story – he was known for painting objects or boats, and then after he painted them, they were struck by lightning or something. I was so nervous about that, I didn't want him to paint my portrait. He would find an old tree that was rotting, or a donkey that was rubbing his back. So I realized that he was painting a true feeling, and he didn't have to invent anything. I began to emulate him. And it's something I still carry to this day. I'll never paint a place, a town or a person unless I know them or I've walked the grounds or I've tasted the food. When I travel, I like to hang with the locals. It reminds me of my sailor days. I always want that edge, and that's what makes a good painting. Playing it safe is not always the best way to go.
What have been some of your challenges in the progression of your work?
The first time I attempted a nude – a figurative piece – didn't go well.  My father was great at figures, and I thought, "My old man can do it, I have it in me." A friend of mine brought a model over, and I attempted it. I tried it and I failed. Why? Because I've determined I wasn't ready. Like in life, there's timing is everything. There's timing in education, romance, relationships and having children. Four years later, the same model came to my studio and I executed it perfectly. Ever since, I've been painting figures. In that time between, I had changed the way I looked at a woman – I really began seeing her as an object of beauty. When before, I think I was looking at women for dating. I was confused, yes?
Your work has a warmth and very personal feel. How do you bring yourself into each canvas?
I think inspiration has to come naturally. When I was a young soldier, we helped this peasant farmer in the village harvest his grapes. He didn't have anyone to help make the wine, so we put all the grapes in one barrel, and I got in the barrel and stomped on the grapes. We had what is called "young wine." I will remember that always. The experience connected me with the whole process – so ever since then, I've been painting vineyards, and when I do, I recall that connection.
When I was 17, we had a big harvest of olives. We gathered the olives from a village on a different island and put them in a big stone pit, with a big stone wheel and a mule that pushed the wheel to grind the olives. Then we took the paste and put it in rope bags, stacked them and pushed the torque around and the oil ran down. That was fresh virgin olive oil. Then fishermen came in and built a fire pit. We had fresh fish and fresh bread with some of that olive paste and garlic. So it's all of that I remember whenever I paint an olive orchard or an olive branch. The whole scene comes to mind. It's authentic. I'd attempted to paint things from photographs, but it just didn't look right. So when I able, I traveled and chose my own compositions.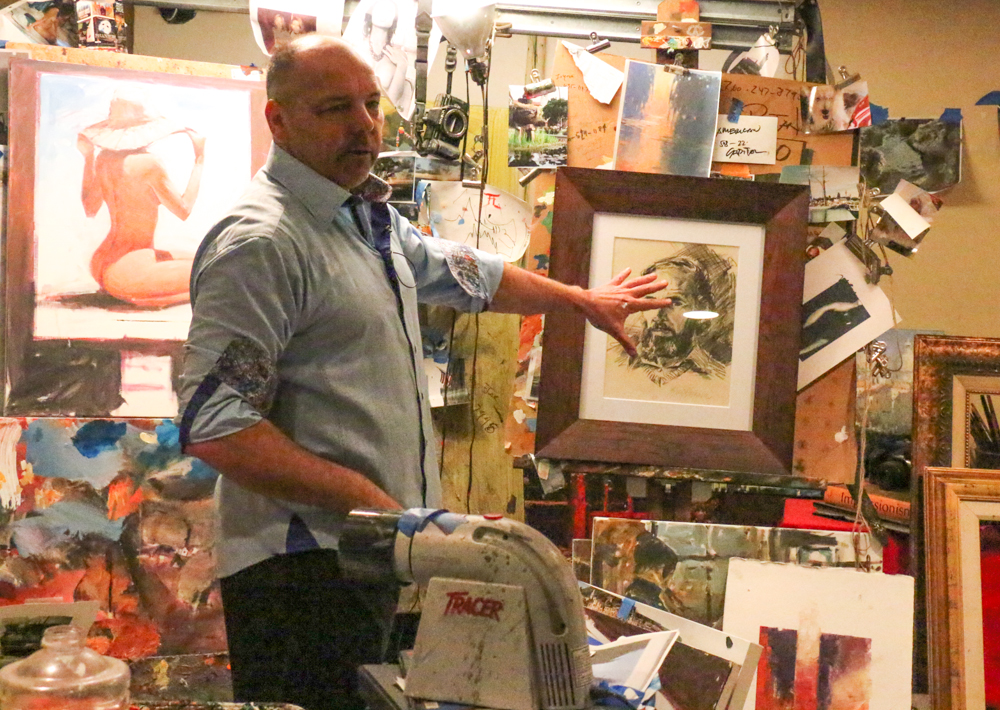 What were your first exposures to the world?
Before I came to America, I chose to be a navigator and a sea captain. So that was the way I had exposure to places other than the islands I was raised. Venice, Spain, Greece, South America, Portugal. I still carry some of those sketches today. Since I couldn't go to an art store in the middle of the Atlantic Ocean, I would go up to the bridge and steal a couple of charts. I would take some from the bottom, thinking they would never use them.  However, of course, I eventually found out they did use them. I would take them and I would put them on the bulkhead and I would sketch there. Sometimes for men – when they are lonely in the middle of the Atlantic or the Pacific – there is nothing left to do other than play cards, curse, fight and get drunk. So my shipmates would come to my cabin – which was almost therapeutic for some of them. They would sit and have a beer and a look at my drawings.
How do you like to work?
I hit the canvas at about 9 AM. That's where I have my freshest inspiration. I work until noon, then run some errands, then work again until late in the night. I like the peace.
I sometimes paint live – what is called plein air painting. I'll take a canvas and sit at the edge of the cliff, or on the beach. I especially like going to Alaska with Park West. The gallery provides me with a nice cabin with a balcony, and I can set up my easel and going towards the glaciers – I paint. I paint the beautiful waterfalls, the ice, the glaciers, the boats, the trees. I love it. It's really fantastic.
One of the auctioneers – Jordan Sitter, took me and the artist Tim Yanke fishing for salmon. And that was just a great experience that now sits deep in my creativity like those stories from when I was young. We caught salmon, saw dolphins and whales jumping around us. It was really powerful for me. I really can't paint enough of it. And as soon as I send those paintings to to Park West, they are sold. They are gone.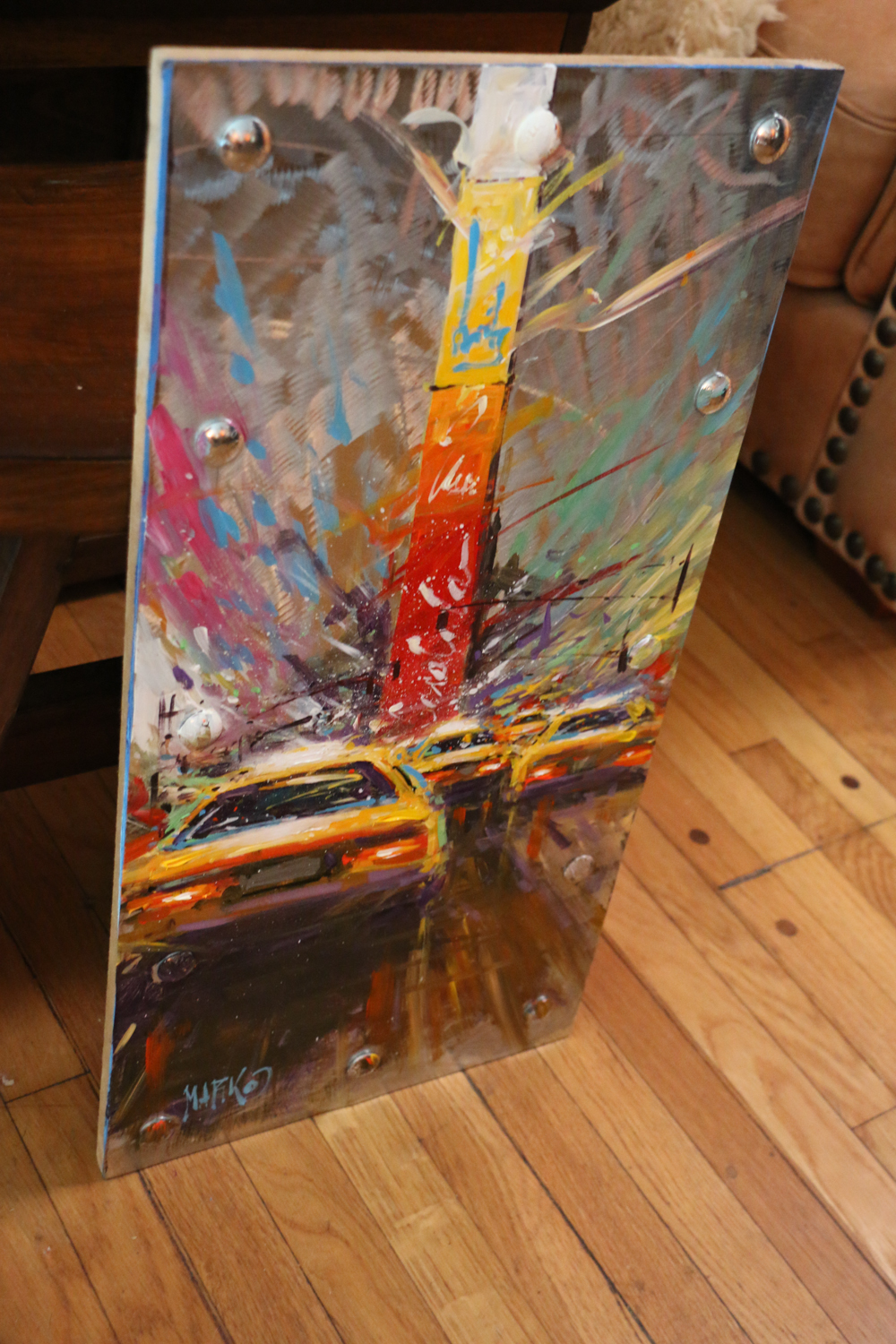 I've moved on with subject matters since being with Park West. We were taking a cruise to Bermuda, which started from New York City. I walked around Times Square at night. I loved it. I really discovered New York that time, even though I'd been to New York before. But again, then it just wasn't my timing. That time, before Bermuda, I really enjoyed it. I fell in love with the city, even though I'm not a city boy. I started painting images of the city, then moved on to painting on different surfaces – like metals – that come from what inspires me about the city. And I'm happy that Park West allows me to go off in that direction, which is unusual for a gallery. Most galleries say to paint what you came in with. Not Park West. Which as an artist has been very important for me.
Do your collectors influence your work?
My collectors have been a guiding light to my progress. Seeing their reaction to my work follows me into my next piece. It makes me think, "Oh, I want to do this one next, or that one even better." People ask me, "What's your best piece?" They are all my best pieces. Once I do my "best piece," I guess the game is over for me. However, I never release a piece unless I'm completely happy with it, so each of my collectors get the very best of me. Collectors are very humbled when they meet me, and I'm so humbled by them. I'm very thankful. The way Park West brings collectors to art is really unusual. Most people will never walk into a gallery and find what they want. Park West has some of everything.
Another unique thing about Park West is that their clients are consistent. They come back. Since the gallery has been around for more than 40 years, some collectors have children that are collecting now as well. And the other great thing is that collectors are from everywhere.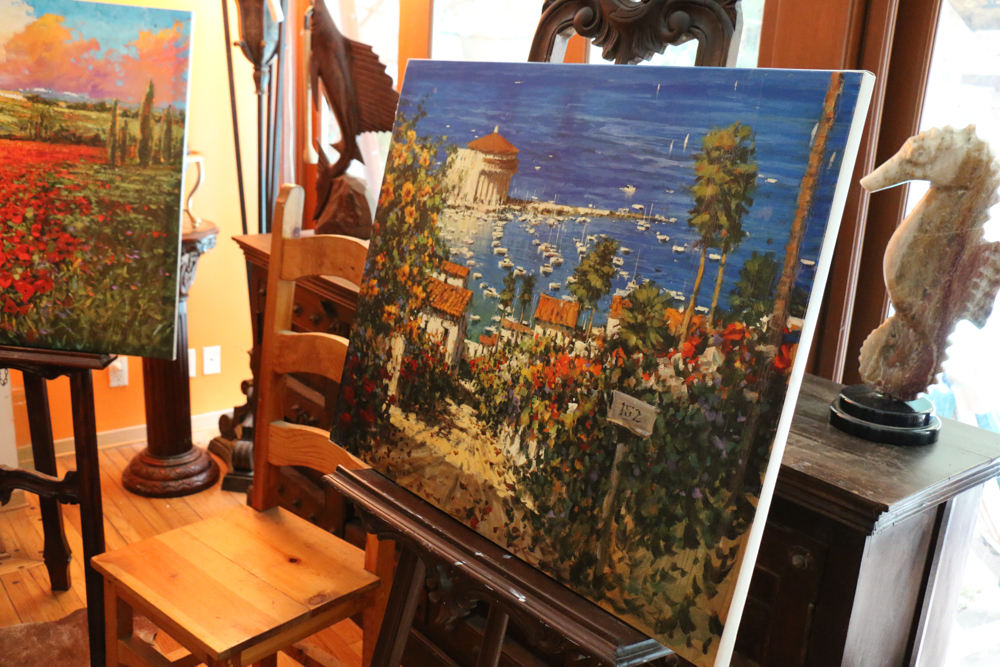 Have your relationships with other Park West artists had an impact on your work?
Getting to know other Park West artists has been incredible. So enriching. When I was still working on the ships in the shipyard, I would see materials about Csaba Markus, Itzchak Tarkay, Scott Jacobs, and I would think – wouldn't it be great if someday I could meet them? Fast forward years later to the 40th anniversary of Park West Gallery. There, I see Itzchak Tarkay and I embrace him and tell him I've been following his work for so long. To my surprise, he said, "Well, I've been following your work, too." Wow. Other than my father, Tarkay was my first mentor.
When artists are together on a cruise or at an event, we exchange ideas. We might be having a breakfast at a diner somewhere and grab napkins and start sketching. We bounce ideas off one another. That used to be the way it was long ago with artists meeting at a café like Van Gough and Gauguin, or like Dali and others meeting for wine. Now it's all modern, with texting and e-mail. But Park West brings artist gatherings back. I really builds friendship and community.
Learn more about Marko Mavrovich at parkwestgallery.com